Newry Businesses supporting mental health
"Businesses must do more to help people with mental illnesses".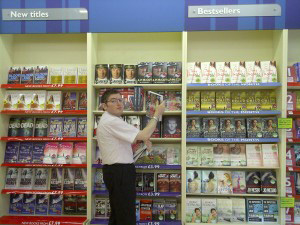 Leading businessmen in the Newry area have appealed to employers to do all they can to facilitate people with mental health illnesses who wish to re-enter the world of work.
Neil Collins, General Manager of the Glen Electric plant at Greenbank and Pat Vaughan, of Easons at Buttercrane Shopping Centre, both feel that offices, shops and factories could do more to provide training places for clients of Action Mental Health who are overcoming mental health issues and who would derive great benefit from being able to work on a voluntary basis for short periods within a normal working environment.
Action Mental Health is based at the Confederation of Community Groups premises at Cornmarket in Newry to where they've relocated from their previous home at Greenbank Industrial Estate. Brian Hughes is the Service Manager for this region and he is very pleased that their facility is able to provide a service for around fifty clients who attend their premises each day. These clients, all of whom have experienced mild to moderate mental health issues, undertake training in a variety of Certificate courses covering areas such as Business and Administration, Retail Skills, Horticulture, IT, Catering, Health and Safety,etc.
"The training allows our clients to consider various careers and gives a good basic understanding of a number of areas", says Brian, "an issue is that when we arrive at the stage where a client would gain benefit from occasional attendance in a normal workplace, we find that not all offices and businesses will make available that facility".
Brian pointed out that cases of mental illness are 25% higher in Northern Ireland than in Great Britain, while funding is 25% less.  He made a particular plea for public sector offices in the region to make available work opportunities for those recovering from mental illnesses. 
Glen Electric and Easons are among a number of businesses that have allowed AMH clients to attend their workplace and gain experience in a return to employment. There is no cost to the employer and both Neil Collins and Pat Vaughan feel that this is a very worthwhile initiative that allows their business to make a contribution to the overall good of the community.