Newry Welcomes Danny Kennedy MLA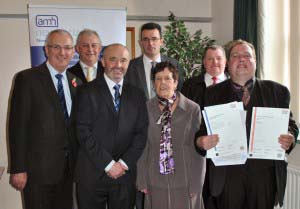 Local MLA, Danny Kennedy, Minister for Regional Development, was the special guest at the Annual Certificate Presentation in AMH New Horizons. 
This was the first time the ceremony was held in the new premises An Stóras at Ballybot House. 
130 certificates were awarded to clients who had achieved qualifications in a range of subjects including IT, Retail Studies, Health & Safety, Career Preparation, Business Administration, Literacy & Numeracy, and Digital Photography. 
Also present were members of the Newry Employers Forum, who are great supporters of the service and provide work placement opportunities for many clients wishing to re-enter the world of work.