OCN NI 'Virtual' Learning Endeavour Awards 2021 – the Results!!
The OCN NI Learning Endeavour Awards took place online yesterday.
 
If you missed the live streaming – you can catch up on the video link below.
Many congratulations to everyone who was nominated! Here are the results for the AMH team who were shortlisted!! We are so proud of you all!
Health and Well-being Learner of the Year
Highly Commended : Kathryn Tilson – AMH New Horizons Fermanagh
When Kathryn joined Action Mental Health she had no formal qualifications bit she was keen to take part in accredited training, so joined an OCN class on "Producing a CV".  She has now completed nine Level 2 OCN courses – some in person and some online – and is working towards the OCN NI Award in Employability Skills and Personal Success and Well-being.  Kathryn is always well prepared for classes, participate enthusiastically in discussion and puts considerable effort into completing written work.
---
Highly Commended : Beverley Farry – AMH New Horizons Fermanagh
Beverley stated on her journey with Action Mental Health being a little nervous about attending the service and meeting new people.  With encouragement from the staff in AMH New Horizons Fermanagh, Beverley began attending the service and commenced OCN Level 2 courses in Mental Health Awareness, Communication Skills and a range of other courses too.  As the months progressed Beverley began to feel much more comfortable in the OCN classes, her confidence improved and she began to made friends and connections with other learners.
---
Shortlisted : Louise Smith – AMH New Horizons Lisburn
Through participating in the OCN NI Level 2 Award in Personal Success and Well-being Louise has been able to participate in and comprehend a range of confidence building strategies that she has put into place in her job and her personal life,  As a keyworker Louise has worked throughout the Covid Pandemic which has been a stressful experience, and due to the strategies and techniques she acquired during this qualification she was able to have the confidence to negotiate her working hours and conditions to enable her to build a work life balance
---
Shortlisted : Roberta Wadey – AMH New Horizons North Down & Ards
Roberta was attending in-house classes prior to lockdown.  She continued with her creativity requesting to work towards her Level 1 OCN in Mixed Media remotely.  Regular Zoom sessions, emails phone calls, collecting materials from AMH, sending and printing photographs lots of research and time and effort resulted in Roberta creating two stunning mixed media pieces.  Bobby's project exceeds the requirements of the Level 1 qualification – the ingenuity, skill and perseverance shown evident in her completed pieces and supporting documentation.  This course has given her a step towards her dream – she has her sights set on a University textiles course, starting that journey this September, her application for a Level 3 textiles college course already underway.
---
Third Sector Learner of the Year
Highly Commended : Sharon Bann – AMH New Horizons Craigavon & Banbridge
Sharon contributed well to group discussion and attended all sessions for her OCN course.  Her coursework was of a high standard despite some of the delivery taking place over zoom.  Overall she was an enthusiastic learner who got a lot out of the course.  While completing the OCN NI Level 2 Award in Mental Health Awareness, Sharon was able to support and advise the other group members by drawing on her own experiences.  Sharon became a valued member of the group showing great courage, empathy and always applied herself well in group discussions.
---
Shortlisted – Beverley Farry – AMH New Horizons Fermanagh
---
Shortlisted – Kathryn Tilson – AMH New Horizons Fermanagh
---
Find out more about the Awards here.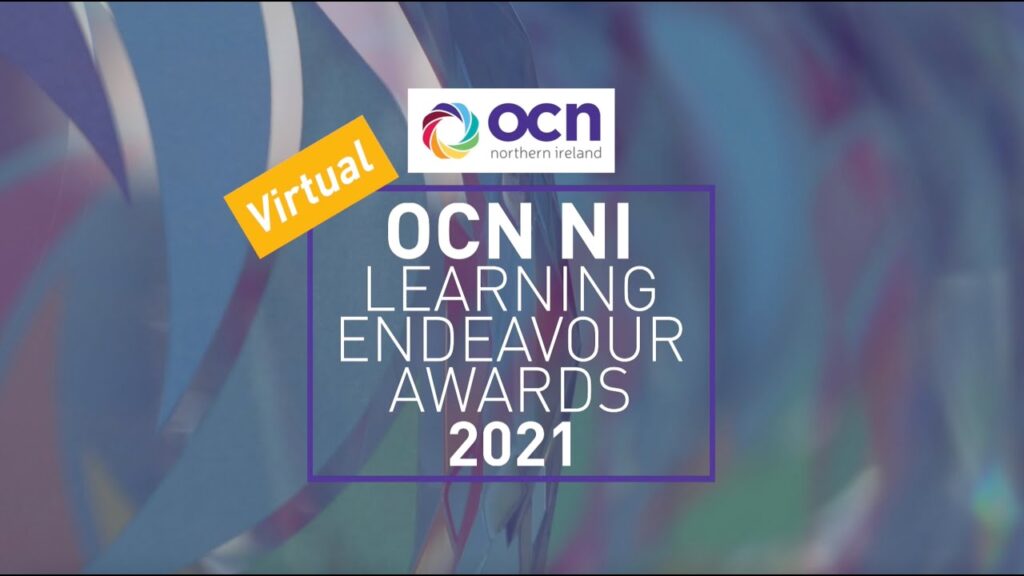 The programmes delivered at AMH New Horizons service, that the award recipients participate in, are part of the "Working it Out" project, which is part-funded through the Northern Ireland European Social Fund Programme 2014-2020, the Department for the Economy and the five NI Health & Social Care Trusts.
---