Recognising AMH Volunteers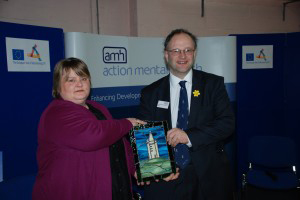 A special volunteer recognition event was held in AMH New Horizons North Down & Ards, in this the European Year of Volunteering.  Special guests included Cllr David Smyth, Mayor of North Down, Peter Weir MLA, Wendy Osbourne CEO Volunteer Now, Sonya Duffy Volunteer Manager with the South Eastern Trust and David Babington CEO AMH.
The event was held to raise awareness of the benefits of volunteering to individuals and the host organisations.  3 clients talked about their placements and encouraged other clients to volunteer.  A total of 25 clients received certificates from Peter Weir MLA, to acknowlege the commitment they have shown to volunteering and the immense benefits they have received by participating in the scheme.  Representatives from 20 of the host organisations also received certificates in recognition of their valued contribution to volunteering and a small gesture of thanks from AMH.
"Before volunteering at The Link I had no self worth – but being there and helping other people has given so much to me and has built up my confidence and self esteem."

 Mandy Green, Catering Assistant, The MARC Project
"Being with other people is very important to me and to my mental health and I have got great satisfaction from helping others.  The experience that I have gained at Bayview will help me move forward in my chosen career."
Frances Davies, Craft Tutor, Bayview Resource Centre

 "Volunteering in the library has given structure and purpose to the my day which I didn't have before. It also gives me a chance to interact with a wide range of people of all ages which I enjoy immensely. I am much more confident around people now." 

 Gwyneth Lines –  Library Assistant, SERC library.

"The staff at ASDA don't treat me any differently because I'm a client from New Horizons.  I was really touched recently when I was ill and the staff sent me a get well card – it really made me feel part of the team.  Doing the placement has been so good and I am looking forward to returning to the workplace permanently."

 Catherine Rankin – Shop Worker, ASDA & Photography Tutor U3A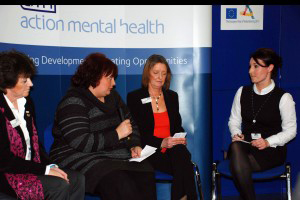 AMH would like to thank the following organisations who have supported client placements:
Action Cancer, Age Concern, Ards Citizens Advice Bureau, ASDA, Assisi Animal Sanctuary, Ballymaconnell Nursing Home, Bayview Resource Centre, Beacon House, Boots the Chemist, Café Manor, Cancer Connect, Daisies Café, Growing Connections, Jigsaw NI, Kiltonga Christian Centre, Lazy Daisies, North Down Motor Factors, Volunteer Now, Oxfam, Praxis Care, Rathgill Community Association, Re:Store, Redburn/Loughview Forum, Simon Community, South Eastern Regional College, The British Heart Foundation, The Link, The MARC Project, The National Trust, U3A, Ulster Cancer Foundation, Volunteer Now, Volunteer Services SE Trust and Youth for Christ.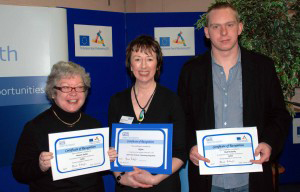 For more photos of the event click here.
For more information on volunteering go to the Volunteer Now Website