Royal visit to Basket Case Exhibition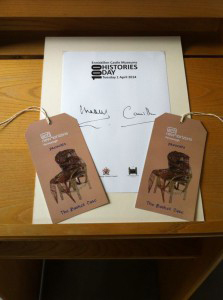 The Prince of Wales and the Duchess of Cornwall visited AMH's Basket Case Exhibition yesterday in Fermanagh County Museum.
Basket Case is an inspirational and thought provoking exhibition influenced by Drumclay Crannog, which hopes to challenge the stigma associated with mental illness and showcases the creative talents of clients at AMH's New Horizons in Drumcoo.
Supported by the National Lottery through the Arts Council of Northern Ireland, the exhibition showcases basket weaving skills, art, poetry and creative writing, created by clients with the help of local artists and based on the findings from the ancient historical site where archaeologists excavated a wealth of weaving artefacts among others.