SALUS Launch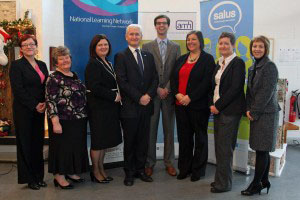 Mental health promotion among young people living in the border areas  of Cavan, Fermanagh, Donegal and Derry/Londonderry has been put firmly on the timetables of schools and community groups this week with the launch of the Salus Project, a new and  innovative  cross border project, funded under the European Union's Interreg IVA Programme, managed by the Special EU Programmes Body (SEUPB).
The Project launch on  Thursday 28th November, held in the International Scout Centre in Castle Saunderson, Co Cavan attended by approximated 150 people brought together the key players behind the Project; Action Mental Health a leading mental health charity north of the border and south of the border the National Learning Network, Ireland's largest non-Government training organisation.  Both organisations praised the project's early success and expressed hope that even at this early stage the work would somehow be sustained beyond the current funding period.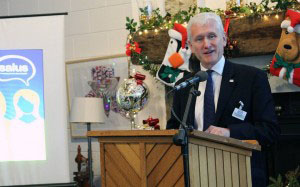 David Babington, Chief Executive of AMH told the audience which included young people from local schools and key figures involved in health and education;
"Action Mental Health are delighted that in the short time the project has been operating over 600 young people have benefited from the Project's 'Provoking Thought' workshops .  The aim of these workshops are to breakdown stigma around mental health, show young people how important it is to look after their mental well-being and where necessary signpost young people on to appropriate sources of support.  The success of the project is evident in the number of schools who are inviting the project back to do further workshops on specific issues such as bullying and the positive feedback we have received from teachers and young people alike."
Welcoming the project Lorraine McCourt, Director of the SEUPB, said;
"In delivering better mental health provision the project will support pathways for young people to get into further education and long-term employment. It will also give them the confidence they need to reach their goals and maximise their potential. In doing so it is helping to meet one of the core objectives of the EU's INTERREG IVA Programme, which has been designed to improve access to vital services, including public health provision, for people across Northern Ireland and the Border Region of Ireland," she continued."
Siobhan Wallace, Co-ordinator of Salus explained that for the launch of the Project in Castle Saunderson they had decided to focus on building positive mental health and well-being;
"The positive approach Salus takes within schools to mental health is, we feel, one of our unique selling points and we decided to stay true to this and theme our launch event on 5  key ways to emotional well-being.  We are all guilty of neglecting this aspect of our lives and by having workshops around these areas we want to reinforce the message of how people can better protect themselves against mental ill health.  The 5 themes we are looking at are connecting with people, keeping active, keep learning, do things for others and take time to stop and notice the world around you.  There is a wide body of research around all of these behaviours that say by doing these things we are helping ourselves to stay mentally strong and are more likely to flourish as individuals."
Margaret Farrelly, Cavan's own 'secret millionaire' was present on the day to tell the audience about her secret millionaire experience and how she benefited from  helping others and Dr Eugene Thomas, a specialist in laughter conducted a workshop around challenging yourself.
5 ways to stay emotionally well
The Salus Launch was themed around  5 ways to stay emotionally well. Whilst we may all be familiar with  how to maintain good physical health and in particular the '5-a-day rule' most of us are less familiar with how to maintain good mental health.  The 5 ways to stay emotionally well are evidence based actions which were initially developed by the New Economics Foundation in response to research commissioned by the UK Government in 2008.  They are now widely used by health trusts/community organisations within the UK and beyond. The 5 ways you can maintain good mental health are:
Connecting with people (family, friends and community).
Keeping active (physical activity can reduce stress and anxiety)
Challenging yourself (keep learning new things)
Doing things for others (helping others makes us healthier and happier)
-Taking time to stop and notice the world around you (be mindful of small things)
Anyone wanting further information on the Salus project should contact Siobhan on 048 66323630  or email [email protected]