Shine A Light Campaign
Shining a Light on Mental Illness this Christmas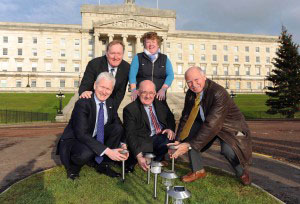 The Northern Ireland Assembly Commission and its charity of the year – Action Mental Health (AMH), helped to "Shine a light on mental illness" this Christmas.
"The Shine a Light" Campaign was launched by William Hay MLA, Speaker of the Northern Ireland Assembly, on World Mental Health Day in October.  Since then, hundreds of lights have been sponsored, by members of the public as well as those working in Parliament Buildings.  Following the Assembly's annual Christmas Carol Service at Parliament Buildings today, Assembly staff and MLAs gathered to place the lights along the grounds in front
of the building, each light symbolising a Christmas message of support and hope to those living with mental ill health.
Speaker of the Assembly said: "Today's event is a culmination of the hard work of Action Mental Health staff to raise funds for this very important cause.  As the Assembly Commission's charity of the year, I am delighted that AMH has raised awareness of the 'Shine a Light' campaign here at the grounds of Stormont Estate. Today's gathering and the laying of the lights in front of the building is a wonderful symbol of AMH's dedication to helping those living with mental illness and ties in so well with the Assembly's commitment as well."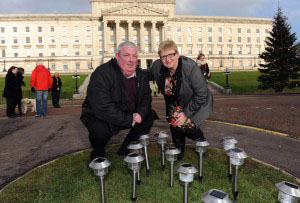 AMH's Chief Executive, David Babington said: "Many of you will be looking forward to celebrating the festivities with your friends and family. However, for some people experiencing mental health problems, Christmas is often a time when they feel more isolated and stigmatised than ever.
"During the Assembly's Christmas recess, the lights will remain in front of Parliament Buildings. It's quite likely that one day you, one of your friends, colleagues or family members will experience a mental health problem and it is often the simple things that you do which can make a real difference. This campaign is urging all of just to take a moment to think about those who are ill and offer our support. By seeing the lights over the Christmas period, perhaps we can encourage some to seek help and others to offer help".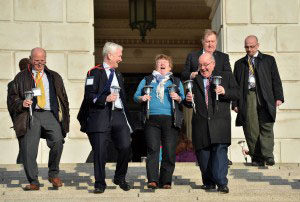 You can still donate to the Shine a Light Campaign, http://www.justgiving.com/Action-Mental-Health.  The money raised will enable Action Mental Health to provide services and support to thousands of local people, living with mental illness.  AMH helps their clients on the road to recovery and to build positive and meaningful futures.
More Photos can be found on our Facebook page https://www.facebook.com/media/set/?set=a.523455657673887.123484.189840137702109&type=1&l=6f46fb766b