Shine a Light on Mental Illness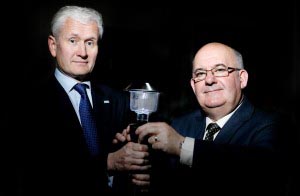 The NI Assembly and their charity of the year – Action Mental Health (AMH), will be helping to "Shine a light on mental illness" in the run-up to Christmas.
"Many of you will already be looking forward to celebrating the festivities with your friends and family.

However, for some people experiencing mental health problems, Christmas is often a time when they feel more isolated and stigmatised than ever,"
explained AMH's Chief Executive, David Babington.
"During the Assembly's Christmas recess, AMH and the Assembly will be attempting to light up the tree-lined Prince of Wales Avenue, the mile between Parliament Buildings and the front gates of Stormont Estate.  We are asking everyone to send out a message of support to those living with mental illness by sponsoring a light.   It's quite likely that one day you, one of your friends, colleagues or family members will experience a mental health problem and it is often the simple things that you do which can make a real difference.  This campaign is urging all of just to take a moment to think about those who are ill and offer our support. By seeing the lights over the Christmas period, perhaps we can encourage some to seek help and others to offer help". 
Lights are now on sale, from the Assembly shop in Parliament Buildings or from AMH or via our Just Giving Page. On the 13th December you are invited to the Carol Concert in the Great Hall in Parliament Buildings 12.30pm.  Afterwards you can join the MLAs, Assembly staff, and AMH, in the grounds of Stormont when we will light up the mile.
For more details contact Callum Clark [email protected] 02891828494 or Gavin McConvey [email protected] 02844613791 or you can donate online at http://www.justgiving.com/Action-Mental-Health