Style Comes To Stormont
On Wednesday 13th March AMH hosted a glamorous night of fashion in the prestigious surroundings of the Great Hall at Parliament Buildings, Stormont.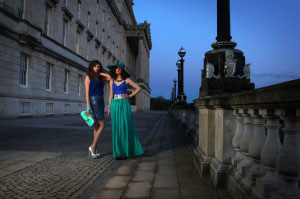 The event was supported by some of Northern Ireland's best known names in the fashion and beauty world including retailer House of Fraser and Tracey Hall's Style Academy models who were prepared for the catwalk by the talents of the Peter Mark hair team and award-winning make-up artist Paddy McGurgan, (after a lovely facial treatment from the therapists at Creme de la Mer!)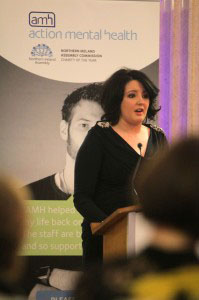 The fashion industry is one based on beauty, judgement and perfection.  As a result, the industry often carries the burden of blame in society for propagating negative self-image (of young women in particular). However, a growing number of women are finding solace from their mental health issues in the worlds of fashion and the internet, as exemplified by the rise in "blogging".  One such local blogger, Gemma-Louise Bond (21), bravely spoke at the event revealing her own mental health challenges and the role her blog played in her recovery explaining: "It keeps my morale up and gives me a great focus."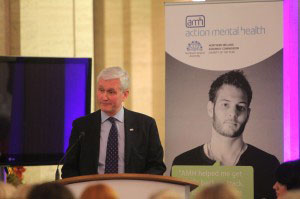 The event was opened by our CEO David Babington and Pam Brown, MLA and member of the Health Committee. The night began with a drinks reception and entertainment provided by James Huish, Belfast's very own "Bublé" who serenaded some of the guests.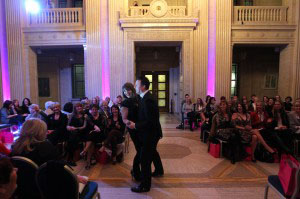 Jason Shankey, Peter Mark, Zen Restaurant and Aura Day Spa were among many local businesses who donated raffle prizes. All proceeds were raised in aid of Action Mental Health to help their support services and outreach work across Northern Ireland.
The audience comprised some local fashion writers and bloggers including Louise Vance who held a "Best Dressed" competition for guests and delighted the winner with a hamper from Dolly's Retro Sweets and a handmade necklace from Rebro Jewelry.
AMH staff took part in every aspect from organizing and promoting the event, to volunteering on the night as ticket agents, ushers and model dressers. Two staff members and two clients from the Newtownards unit also dressed to impress in dinner suits from House of Fraser to help the models down the marble staircase in the grand finale.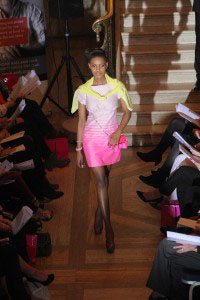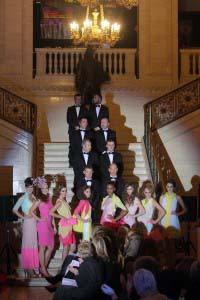 Thank you to everyone who
attended,
donated,
volunteered
and supported
this special event!