Sweeping away stigma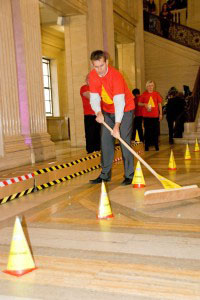 World Mental Health Day is observed annually in more than 100 countries on October 10 to raise public awareness about mental health issues.  Each year there are local, regional and national World Mental Health Day commemorative events.
Action Mental Health has been nominated as Charity of Year for the Northern Ireland Assembly Commission. This year, AMH had a host of events happening all over Northern Ireland during the week of World Mental Health Day including "The Great Push for Mental Health – Don't Lose Your Marbles" event in the Great Hall in Parliament Buildings.
Mental illnesses affect nearly 12 percent of the world's population – about 450 million or one out of every four people around the world – will experience a mental illness that would benefit from diagnosis and treatment.
Mental health is perhaps best explained as how well we cope with daily life and the challenges it brings.  When our mental health is good, we can more fully enjoy and appreciate the people and the environment around us.  We respond better to the stresses and challenges of daily life; we are more creative, use our abilities to the fullest and make the most of opportunities.  When our mental health is poor, it can be difficult to function in our daily lives.
"Don't Lose Your Marbles" is a fun event in which teams and individuals have to steer their way through an obstacle course while holding on to their marbles!
Each cone represents one of life's obstacles such as debt, bereavement, or illness – events which can have a detrimental effect on our mental health.  The event is an interactive way of celebrating World Mental Health Day and raising awareness of mental health. By being aware of our own mental health, we can build resilience to; and learn to cope better, with what life may throw at us.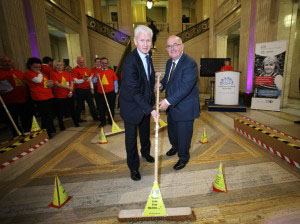 MLAs and Northern Ireland Assembly staff joined in the fun with clients from AMH as well as some Ministers!  Speaker of the Assembly, William Hay, MLA  opened the event, and Chair of the Health Committee, Sue Ramsay MLA acted as compere!
Ahead of the event David Babington said, "We are very pleased that the Northern Ireland Assembly Commission has chosen to focus on and support mental health and well-being this year and we are delighted to be named as Charity of the Year. Our team in AMH is already hard at work organising a number of fundraising activities and events here at Parliament Buildings, and we look forward to working with, and having the support of the Northern Ireland Assembly staff as well as the MLAs. We will also be running a number of joint initiatives with the Northern IrelandAssembly to raise awareness, tackle stigma and promote positive mental health, so today is really only the beginning of taking action on mental health."
More Photos are on the Action Mental Health Facebook Page