Taking Action on Mental Health
Basil McRea MLA and Suzanne Cromie of Zenbu Massage & Yoga 
During Mental Health Awareness Week, Action Mental Health visited Parliament Buildings to give mental health advice to MLAs and staff.  The Northern Ireland Assembly Commission recently nominated AMH as its first ever Charity of the Year, and it was important to make people aware of the dangers of stress, which can trigger more serious mental health problems, and introduce massage as an example of a "stress buster".
Too much stress can result in a range of health problems including headaches, stomach upsets, high blood pressure and even stroke or heart disease. It can also cause feelings of distrust, anger, anxiety and fear, which in turn can destroy relationships at home and at work.
People often feel over-stressed as a result of some event or trigger. This doesn't have to be negative; such as the death of a loved one or divorce, it can also be seemingly positive; a new partner, new job or going on holiday. Such feelings can also be acute; as the result of bereavement, or chronic; being in a bad relationship.
Massage is a good example of a Stress Buster, much more than just a pampering experience, it is a body healing and emotional stress-relieving tool. A massage lowers a person's heart rate and reduces blood pressure giving you a sense that stress is melting away.  Massages reduce pain by reducing muscle tension and stimulating blood flow and increasing oxygen supplies to the blood stream. This reduction of pain helps to relieve stress.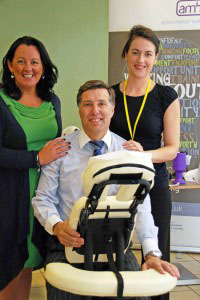 This is the first of many mental health awareness activities planned with the NI Assembly over the next year.
Many thanks to therapists Suzanne Cromie from Zenbu Massage & Yoga and Jason Gonzalez from Kairos.