Visitors from Kwintes, Holland
This week, for the third consecutive year, staff and clients from Kwintes in Holland visited AMH New Horizons in Downpatrick.  Kwintes is a mental health and social care organisation with centres throughout the provinces of Flevoland, Utrecht and South Holland.  They provide care to a broad client group including those with a psychiatric diagnosis, those living with additions, victims of domestic abuse and the homeless.  They offer living, working and learning support as well as recreational activities.
The day provided an opportunity for clients to share their experiences and to talk about Kwintes and AMH.  They discussed cultural differences and gained an insight into services which are available in other parts of Europe.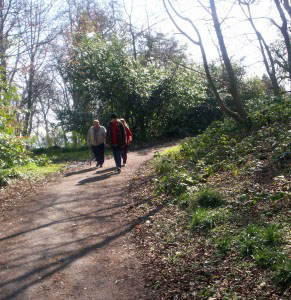 Despite the rain the group enjoyed a walk along the Quoile.