Well Done to all our Marathon Runners!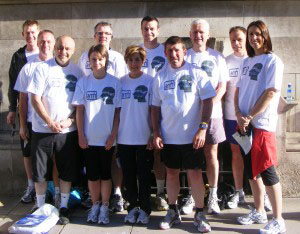 Thirty five runners took part in the Belfast City Marathon on Monday to raise money for AMH. 
We had 2 AMH relay teams, Team A (7299) – Bernie Best, Ingrid Gallen, Johnny Stevenson, Michael McCaul and Joanna Miskelly finished in 04:43:40 and Team B (7300) – John Sim, David Babington, Liam McConvey, Brian Hughes and Gavin McConvey also finished in 04:43:40!!
Many thanks also to Qualitrol in Belfast who fielded 2 all males relay teams (5582-03:55:58, 5584-04:41:01), 1 all female relay team (5581-04:47:49) and 1 mixed team (5583-04:06:20) and raised lots of money for AMH!
And now for the serious runners!  John Corry (1089) from AMH New Horizons completed the full marathon in a time of 04:08:57, he was joined by 3 of his friends – Marcus, Richard and Jacqueline Crane who also ran the full distance.  John Davis, our HR & Training Officer also ran the 26+ miles in 05:38:41.  Well done!!!!!