"What's Your Story?" City of Culture
AMH New Horizons Foyle (based in Springtown) have been awarded funds through the Big Lottery and Arts Council for Northern Ireland to create a piece of art made from… books!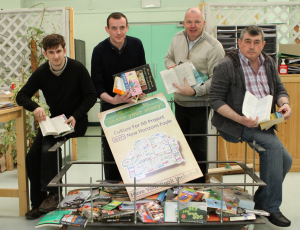 The funding which was made available through the "Culture for All" grants scheme is a unique opportunity for people from all over Northern Ireland to contribute a book for inclusion in the "What's Your Story?" sofa.
The donated books will all share a link; how each book reflects our cultural heritage through the generations.
Books can be anything you remember from childhood, school or adult life and the diverse range will undoubtedly be an eclectic mix which will make it all the more interesting.
To make this happen, AMH need books, lots of books – all shapes and sizes. Everyone has books at home that just sit on a shelf or in a cupboard. Ideally the books will be beyond readable use, or alternatively something which you select because it is significant to you and you wish to have it included.
Collection points are being finalised locally and across Northern Ireland and will be made available via our website and social media channels such as Facebook and Twitter. So far collection points include:

Derry Journal office

Derry City Council offices

Eason in Foyleside

Disability Action in Derry

The Londonderry Sentinel office in the waterside
If you wish to host a collection point then they can contact Service Manager Mickie Harkin via email [email protected] for further details.
The final art piece, which has a target date of August for completion, will then be displayed in a prominent location to celebrate the City of Culture. Funding has also been secured to ensure that the piece is able to travel to several different locations outside of the City area.