Work Experience at Queen's
Gaining work experience when you have been out of employment for a while can be difficult, but thanks to work placements organised through the Equal Opportunities Unit at Queen's, local people are getting the opportunity to gain valuable experience at the University.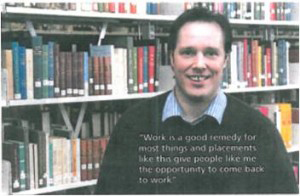 One such person is Mark Hance who is currently on a one year part time work placement with Information Services in the McClay Library.  The placement has been organised through Action Mental Health, the Equal Opportunities and Information Services.
A Masters graduate in Library and Information Management, Mark suffers from panic disorder – a condition which has resulted in him being out of work for a while.
Mark said "20% of people experience some form of mental illness and lots suffer from panic disorders.  They can be debilitating, much more that people think.  There is often a stigma attached with mental illness, but it is something which can be overcome and people can go on and live normal lives.  Everyone has their own coping mechanisms.  When I suffered my first occurrence twenty years ago, I suffered in silence and tried to cope with it myself.  This time round I sought help with Action Mental Health and have found it really helpful.  Work is a good remedy for most things and placements like this give people like me the opportunity to come back to work."
Mark works two days a week in the Acquisitions and Cataloguing department in the McClay Library which deals with the ordering, purchasing and cataloguing of books, journals and electronic resources.  The Library has a collection of approximately 1.5 million books and 16,000 journals.
 "For me this placement is a stepping stone.  It builds on my masters and is an area I want to work in". explains Mark. "I previously worked as a relief library assistant in Newcastle Upon Tyne Council, so this placement is perfect for me and will give me the valuable experience I need to fill my CV."
 Maire Bradley is the Cataloguing and Acquisitions Librarian in the McClay Library.  She said, "This is the second placement our department has facilitated with Action Mental Health and we have found them to be a win win situation for everyone involved.  The placement is very much a two way process.  We have essential work which needs to be done and Mark gets the work experience that he needs.  It is hard to get work experience in libraries, so this is a perfect opportunity for Mark to get his foot in the door."
 Explaining the importance of placements, Paul Browne, Equal Opportunities Manager at Queen's said, "We were approached by Action Mental Health to facilitate this placement and were delighted to be able to do so.  It is an example of one of a number of initiatives taking place across the University to support equality and diversity in the workplace.  We have facilitated a number of placements in different departments in the University, all of which have worked extremely well.  The value of these placements cannot be underestimated.  As this placement is for one year, it gives Mark a longer period of time, and better opportunity, to train and gain the work experience he needs to go on and fulfil his career ambitions."
Article courtesy of Queen's University Belfast