Come along to Promote's Open Night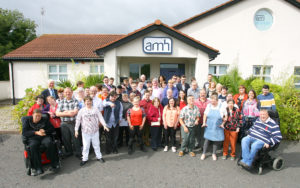 Action Mental Health's Promote service for adult with learning disabilities is throwing open its door for a special Open Night.
AMH Promote is a place where clients get a taste of independent living among their peers and where they are encouraged to be socially active in a supportive environment.
Prospective clients and their families will get the chance to get a glimpse into Promote during a special Open Night event on Tuesday, October 22 from 6.30pm to 8.30pm, at the service located at 6 Enterprise Road, Bangor.

There will be a welcome talk at 7pm, with the event posing a great opportunity for prospective new clients and their families and carers to come and have a look around the purpose-built centre, chat with staff and clients, and see all that is on offer.
AMH Promote benefits not only the clients, but also impacts their carers who glean confidence that their loved ones are in a place dedicated to providing them the best outlet for their many strengths and talents.
One carer recently went on social media to vocalise her appreciation. "As a mum of a client who attends AMH Promote, I strongly recommend this place for anyone who is looking for something like this in the future. Fabulous! Go and see it for yourself! Such a happy gang."
AMH Promote gives clients a new focus in life, encouraging them to participate in a host of activities and events from library visits, sports tournaments, horticulture and cookery, to arts and crafts and drama – including regular performances on stage loved by clients, staff, friends and family.
Promote also hosts regular coffee mornings on the last Thursday of the month. The next one takes place on Thursday, October 31, with the final one of 2019 taking place on November 28, when Christmas crafts, shortbread and planting bulbs and other items will be on sale.
For more information visit our website https://www.amh.org.uk/ and our Facebook page