What Impact did Action Mental Health have in 2020/21?
Our Impact Report 2020/21 is now available to download!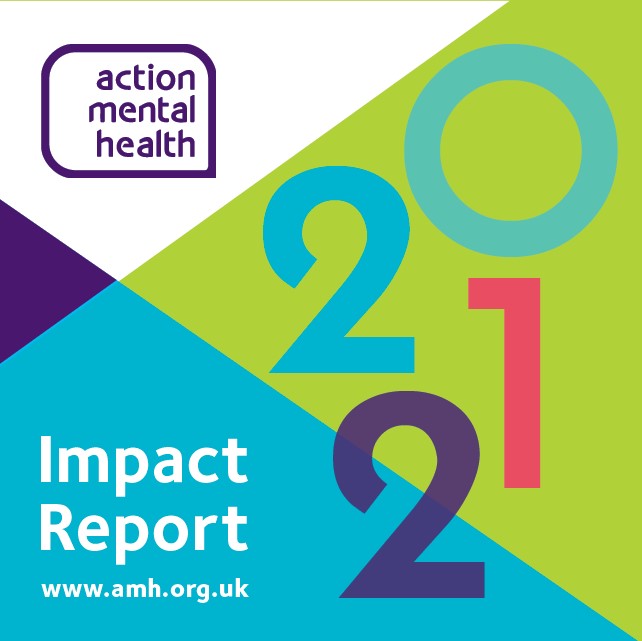 Packed with stats from our recovery services, resilience services and therapeutic services, in what was a very different and challenging year, it is a clear picture of how we continued to have an impact in our local communities despite lockdowns and restrictions. During 2020/21 Action Mental Health continue to live up to our mission – to make a positive difference to people's mental health and well-being!
Our finanical year in April 2020 kicked off with Action Mental Health announcing its merger with New Life Counselling. The move was designed to combine resources, services and expertise, and to offer the best opportunity to develop and sustain mental health support for our communities in these challenging times. The EU PEACE IV-funded project, 'Our Generation,' marked its official launch on 24th September, through a special virtual event, when its objective 'Growing Up Better – Together' was unveiled. This year, we were also delighted to return to Lisburn, when AMH New Horizons Derriaghy moved to the city. This year saw the burgeoning of a new virtual world due to the Covid-19 pandemic, and in response, the development of a new well-being hub. A far-reaching initiative to promote positive mental health during the crisis was launched by the Departments for Communities and Health, partnered with 15 leading mental and well-being health charities, including Action Mental Health. AMH also launched a new section to its website homepage to direct visitors to a specially-collated information section on promoting and supporting mental health and well-being during the unprecedented period.
AMH adapted and brought many of its services to clients, with a range of blended learning and support during the lockdown. The lockdown also marked AMH New Horizons and AMH Promote offering a virtual service and as restrictions eased, a blended service. Services around the country launched a comprehensive training calendar, delivering activity packs to clients, offering them workshop activities, online entertainment and educational packages, plus arts and craft materials. AMH MensSana, AMH everyBODY and AMH Works, also moved to online delivery, offering a range of training sessions. AMH New Life Counselling also quickly adapted and began to offer online counselling support to its clients, while the Workable team continued to provide support remotely as well.
A big thank you to all the AMH Team who adapted to the ever changing circumstances and challenges, and to our clients for their engagement, resilience and patience, our supporters, our funders and our fundraisers; together we continued to #TakeActionOnMentalHealth.
---
A hard copy is available by contacting [email protected]
A full copy of the Annual Report and Financial Statements to the 31st March 2021 can be obtained by contacting [email protected] or downloading here.