Worldwide focus on mental health kicks off with Granite Challenge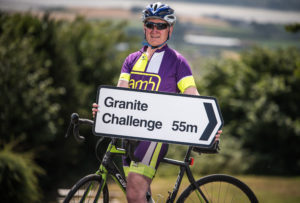 The global spotlight shines on suicide prevention throughout the world this October as World Mental Health Day (WMHD) events take place abroad and at home to champion greater mental health awareness and emotionally resilient societies.
Here in Northern Ireland, where one in five adults in Northern Ireland will show signs of a mental illness – a rate 25% higher than in England – Action Mental Health works tirelessly to help clients stem the personal impact of their mental ill-health.
Action Mental Health kicks off the annual WMHD with its trademark sporting event, the Granite Challenge when cyclists raise funds for the charity's Men's Shed based at New Horizons Downpatrick.
As part of the global efforts, clients of Action Mental Health will be busy participating in a variety of events – and will 'Go Purple' – to help in the charity-wide efforts to raise awareness of mental health issues while fundraising to support its vital services. People can select a day that suits between Monday, October 7 and Sunday 13 and get inspired through Action Mental Health's free fundraising pack, available by registering on their website – amh.org.uk.
A number of civic buildings will also be illuminated in purple across Northern Ireland and as they do, Action Mental Health is encouraging the public to also GO Purple for World Mental Health Day. People can invite their colleagues, friends and families to sponsor them to wear purple, host purple tea parties or rack up purple miles through any physical means to raise money for Action Mental Health.
Art as a therapeutic pastime is one of the core activities at AMH New Horizons and will feature largely on the WMHD calendar. Clients at Antrim New Horizons will present their 'Art of Recovery' exhibition at Clotworthy House, Antrim from October 1 to 27, while in Newtownards, artist Brian Kielt presents his one man show 'Bardo: An Unknown Country' at the Georgian Gallery, Ards Art Centre, in aid of Action Mental Health, running from October 3 to 26.
At AMH New Horizons Derriaghy clients will unveil their special animation which depicts their journeys from mental ill-health to recovery, at the Bridge Community Centre, Railway Street Lisburn, on Monday, October 7 at 11am. Clients at New HorizonsAntrim will exhibit their artistic talents at Mossley Mill on October 8 in Newtownabbey.
New Horizon Antrim clients will get the chance to experiment with Laughter Yoga – said to help combat depression and anxiety – with Nuala McKeever of North Star Health & Well-being Centre.
The Antrim service will also play host to a visit by the Gathering Drum, a drumming circle which aims to encourage clients to experiment with the rhythms of the percussion instrument.
At New Horizons Downpatrick, staff and clients will be hosting a Mental Health Promotion Fair to feature creative writing and story-telling, hand massages, a mindfulness taster and music as well as a taster session with Elite Fitness, complemented by the attendance of a physiotherapist.
WMHD also is the theme for the annual Big Breakfast at Newry's Canal Court Hotel which will bring together local council representatives and businesses, including Autoline, Danske, Haldane Fisher, Murdock Group and Saica Pack.
New Horizons Craigavon and Banbridge will host an open day on WMHD while up in the northwest at New Horizons Foyle clients will be presented with certificates following a host of courses they've been working towards.
Action Mental Health Chief Executive David Babington is encouraging everyone to Go Purple to help the charity support people experiencing mental ill-health and to help build resilience and promote well-being among the younger generation.
"We hope everyone will consider participating in World Mental Health Day in some capacity. There are so many ways to fundraise for Action Mental Health and you're only limited by your imagination. All you have to do is get in touch and we'll send you a fundraising pack.
"We're delighted to know that lots of individuals and groups, including numerous schools and community groups as well as many of our dedicated corporate partners, are already signed up to Go Purple, this October.
"In a society like Northern Ireland which experiences greater incidence of suicide than the rest of the United Kingdom, we do our utmost to support people with mental ill-health, and to provide emotional well-being and resilience building services to the our future generations."
Action Mental Health as once again teamed up with White's Oats to offer samples of their tasty porridge to participants on the day.
Danielle Mc Bride, Brand Manager of White's Oats commented: ''The 10th October is World Mental Health Day and World Porridge Day, and with the synergies between the two being so strong it's fitting that both should share the same date in the calendar year.
"A healthy lifestyle can deliver many great benefits, not least the physical and mental benefits, with increasing research showing that a healthy diet can support a healthy mind and this starts with the food we eat''.
This year, White's Oats is offering participants the chance to win a year's supply of their tasty product to the cycling team with the most entries.
AMH New Horizons' 'Working it Out' project – the focal point of the charity's recovery services in which clients participate – is part-funded through the Northern Ireland European Social Fund Programme 2014-2020, the Department for the Economy and the five NI Health & Social Care Trusts.
Learn more about Going Purple for WMHD by clicking the link: https://www.amh.org.uk/events/go-purple-for-world-mental-health-day/